Contact Us
Tel: 01643 703358
Email: [email protected]
How can we help?
Our knowledgeable, friendly team are available to answer any questions, regarding any of the products or services we offer on our website. We are available by phone, email, our Facebook messenger (Facebook tag) or live chat.
Sales & Technical Support
Whether you want to place an order, need advice on the best products for you or require a quote, we are here to help. Please contact us on 01643 703358 or alternatively by email [email protected]
A Little Request From Us To You
It has been widely reported that there are some shortages and lead time challenges throughout the construction product industry recently & with delivery services. We are continuing to monitor stock availability and lead times, however this can change daily at the moment, so please bear with us. All customers receive the best in customer service from our sales team, however we understand these challenges can be testing, so please can we ask you treat our team kindly and with respect when contacting us. We are here to help. Thank you.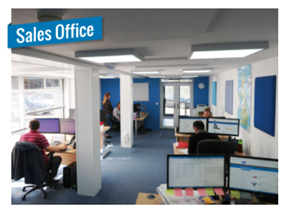 ---
Address
Tanks Direct
Channel House
Mart Road
Minehead
Somerset
TA24 5BJ
We are not able to accept returns or supply items for collection at this location.
If you want to return an item, please follow the link below:
If you would like to arrange to pick up an order, please give us a call beforehand so we can discuss this with you.
Office Hours
8.30am – 5pm Monday to Friday
(We use a live answering service to take out of hours calls and endeavour to return your call at the earliest opportunity. Alternatively, send us an email, and we will respond as soon as we can)
Customer Services
If you have placed an order and have any questions, please call us on
01643 703358.
Frequently Asked Questions
If you have any questions on our products, please check our FAQ's page, where you may find the answer you are after.
---
Ask a Question
If you are unable to find the answer you require, we would love to hear from you, so please get in touch.
---