---
Treatment Tank Control Panel (Smart)
Treatment Tank Control Panel (Smart Range) This New Style Klargester Control Panel for waste water tanks with digital display continuously monitors the internal timetables and operates the appropriate pump/motor outputs according to a timetable entry. The status is shown on the display. The current time continues to be updated internally by battery backup when the mains fail, and the control unit...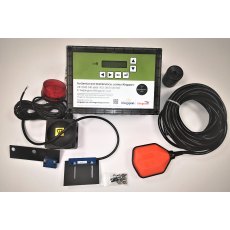 BA-BC Biodisc Smart Alarm kit
BA-BC Biodisc Smart Alarm kit Suitable for lots of units that need to have a high level alarm - this is great for any Cesspool or Small Pump-chamber to advise when unit is full. Also, a small discharge pump or Air-blower can be wired into this panel. Kit Includes :- Control Panel Low Voltage Beacon High Level Float Switch Lose of Rotation
---
Kiosk
Small Grey Kiosk Strong Polypropylene Plastic Kiosk complete with small lock and keys. Complete with 2no keys 406 mm wide 330 mm deep 686 mm high .
BD/BE Top Pulley for Biodisc
Top Pulley for BD/BE BioDisc Sewage Treatment Plant Top Pulley suitable for the motor shaft of the Klargester BD/BE BioDisc Sewage Treatment Plant 17 Teeth 5/8" Pitch F7 Tolerance 20mm Wide High Torque Drive Pulley Bored 20mm Grubscrew Supplied British Standard Keyway
---
Poly-Lok PL-625
Grease trap - Poly-Lok PL-625 The PL-625 filter is perfect for residential waste flows up to 80,000 GPD. It has an easy to install filter that fits into any 4 inch outlet tee. You can add multiple filters to achieve better filtration. It's recommended that the filters are cleaned every three years or when the tank is being pumped. The 1/32" filtration has been shown to reduce fats, oils...