IBC Spill Pallet FAQs
We have a comprehensive selection of Spill control products. Consisting of spill containment, spill pallets, IBC bunds, pallet bunds, drum storage bunds, ibc pallet bund, workfloor bunds, double IBC bunds, drum racks, drum/IBC storage containers and spill control.
Our Spill solutions will allow you to adhere to storage Regulations. Below are some questions you may need to ask when considering your selection of the correct spill product.
HOW MANY LITRES OF EACH PRODUCT DO YOU NEED TO STORE?
Determining the volumes (litres) of liquid and in what sort of containers they are stored; small bottles, 205ltr drums, 1000ltr IBC etc. is key to ensuring you have the right storage facilities and it will also help you understand your spill response needs.
ARE YOUR EXISTING CONTAINMENT PRODUCTS UK COMPLIANT?
Storage containers must be designed with environmental proection in mind and must comply with UK Oil Storage Regulations regarding storage capacities, namely be able to contain 110% of the single largest item or 25% of the aggregate stored, whichever is the greater.
WILL PRODUCT BE STORED OUTDOORS?
If you are storing containers of liquid outdoors you should consider fully enclosed bunds and understand where any spilt or leaking liquid will flow to.
HOW WILL THE LIQUIDS BE DELIVERED TO SITE?
Remember once a delivery vehicle is on your site, that vehicle and its contents become partly your responsibility even if they are carrying products for someone other than you and they spill.
HOW WILL YOU TRANSPORT LIQUIDS AROUND THE SITE?
If you need to move liquids from one area to another you should consider the implications of them spilling while transiting for A to B.
---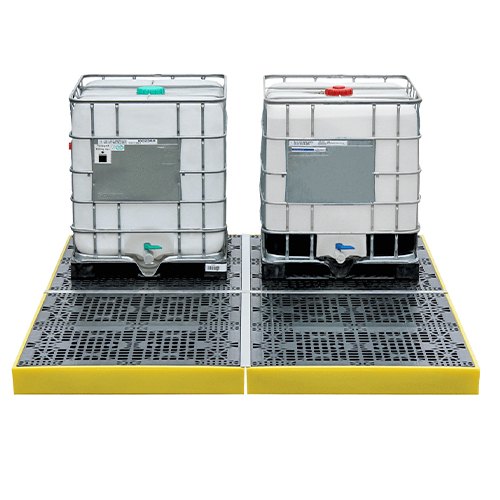 ---