Sewage Treatment Plants Explained

---
What is a Sewage Treatment System?
A Sewage treatment System can be known by many other names i.e. Waste water system, Sewage treatment plant, waste water plant, to name but a few. However they all do the same job when it comes to storing and filtering your waste in Domestic or commercial properties.
Essentially, a sewage treatment plant works by moving air around the unit which encourages the growth of bacteria to break down the sewage. They are designed to produce cleaner and more environmentally friendlier effluent. The initial process is very similar to that used within Septic tanks, however the Sewage Treatment plants have a few key differences.
How does a Sewage Treatment plant work?
Sewage Treatment systems are designed to produce an effluent of suitable quality for discharge to a watercourse or soak away system, subject to the approval of the appropriate regulatory authority.
This process is done in a number of stages.
Stage 1 – Primary Treatment
This treatment consists of temporally holding the sewage in the primary tank. Heavy solids can settle to the bottom while lighter solids can float to the surface. The settled and floating materials stay in the primary tank for removal, where the remaining liquid flows into the secondary tank. The solids sink to the bottom to form what's known as a sludge which will be tankered away at a later date.
First Stage - Biological Treatment
The liquor and fine solids then flow into the first stage of Biological Treatment. A unique managed flow system ensures peak performance by smoothing variable loads.
Stage 2 – Secondary treatment
This stage involves water-borne micro-organisms to break down the remaining biological matter. In the chamber, a pump aerates the waste and encourages good bacteria to digest the organic matter, breaking it down and purifying it. Some sewage treatment plants also have rotating discs which give the bacteria a larger surface area to grow on.
Stage 3 – Tertiary Treatment
As it leaves the final chamber, known as the humus chamber, the effluent is typically 95% clean and ready for discharge into local watercourses, ditches or land drainage systems, subject to consent by The Environment Agency.
---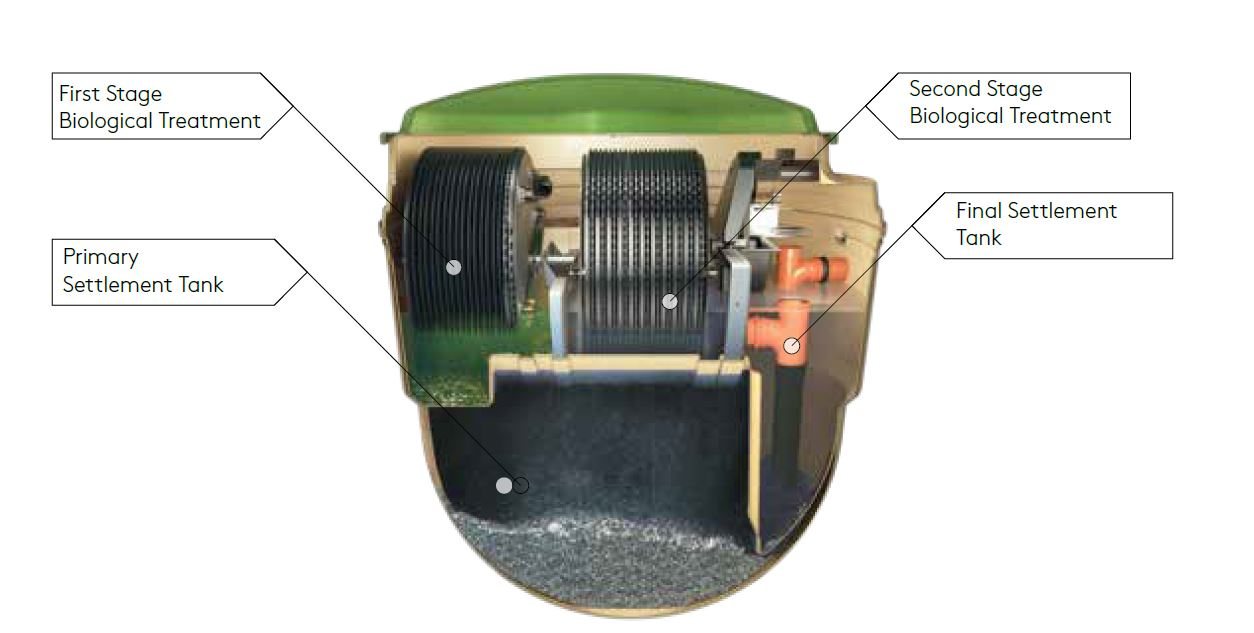 ---
What are the rules and regulations around sewage treatment plants?
Since January 2020 a new regulation came into force within the UK, which stated if your Septic tank discharges directly to a water course it will no longer be acceptable for it to be discharged. A great alternative for this would be a Sewage Treatment plant.
There are a number of legal requirements you'll have to adhere to when it comes to sewage treatment plants.
Legal Compliance
Sewage treatment plants need to be legally compliant – particularly if you've moved into a property with an old model. All sewage treatment plants need to be EN 12566-3 2005 certified – without that, the unit will not be legal in the UK.
Consent to Discharge
If you require the liquid effluent produced by the sewage treatment plant to run off into a watercourse, such as a stream or ditch, you would need to apply for 'consent to discharge' from the environment agency – this is a licence which says whether your wastewater is clean enough not to damage local wildlife and watercourses.
The government's binding rules that came into effect in January 2020, state that you would need to apply for 'consent to discharge' if you are:
Not using a package treatment plant
Discharging over 5,000 litres per day
Discharging to a chalk river
Discharging in a site of scientific special interest
If this is not possible to adhere to these general binding rules for whatever reason, you'll need to contact your local Environment Agency office, complete a 'Consent to Discharge Application Form' and pay an application fee, dependent upon the amount of sewage you propose to discharge.
What are the rules if I am buying or selling a property with a septic tank?
When purchasing a property in a rural area, it's important to check which drainage system exists at the property, and what condition it is in, prior to any purchase. The guidance on the General Binding Rules states:
`If you are buying or selling a property with a septic tank that discharges directly to a watercourse, you should agree with the buyer or seller who will be responsible for the replacement or upgrade of the existing treatment system. You should agree this as a condition of sale.'
Do sewage treatment plants still need emptying?
Yes, as with a septic tank, the sludge still needs emptying by tanker because the job of the sewage treatment plant is really just to clean the water. Most manufacturers recommend that the tanks are emptied roughly once a year to keep sludge from building up, however some low-budget options may need emptying more frequently per year.
---
Recommended Sewage Treatment Systems:
---
---
---
---