Submersible Water Pump, X-AJE 80 P
Submersible Water Pump, X-AJE 80 P
Product Ref: X-AJE 80P.

Available
Home Delivery
UK mainland delivery from £9.95 ex VAT
Product Description
Submersible Water Pump - X-AJE80P

The X-AJE80P Series pressure pump is a horizontal self-priming centrifugal jet pump featuring up/down technology for submersed, surface or underground installation. This pump has been designed primarily for portable and temporary installation and includes pressure control, anti-blocking system and dry run protection with automatic restart.

Applications
- Water boosting and circulation
- Rainwater harvesting systems
- Feeding and emptying tanks
- Garden and domestic use
- Irrigation and sprinklers
- Surface, or submerged installation
- Suitable for clean water, free from solid and abrasive substances
Pump Body: Stainless Steel Aisi 304
Motor Body: Stainless Steel Aisi 304
Back Bracket: Stainless Steel Aisi 304
Shaft: Stainless Steel Aisi 416
Diffuser: Techno-polymer
Mechanical Seal: Silicon Carbide
Class F Cooled Motor and Service S1 with thermal protection
Electric power cable: H07 RN-F 10mt. with UK plug
Protection class: IP 68
Inlet: 1'
Oultet: 11/4'
Pumped liquid temperature: +2 Degrees C to +37 Degrees C (18 to 70 Farhenheit)


Delivery
Our shipping costs cover most of the UK - however, parts of England, Scottish Highlands and Islands including areas north of the Glasgow / Edinburgh border, Isle of Wight, Channel Islands, Isle of Man, Anglesey, Western Isles, Shetland Islands, Orkney Islands, Isles of Scilly, Northern Ireland and the Republic of Ireland may cost more. Please call before ordering if the delivery postcode is listed below. There may be additional shipping costs. AB, BT, CA, CT, DD, DG, EH, FK,G, GY, IM, IV, JE, KA, KW, KY, LD, LL, ML, PA, PH, PO 30-41 (Isle of Wight), SA, SY, TD, TN, TR, ZE Southern Ireland

Product Specification
Product Code: 3P
Weight: 0.010kg
Dimensions: D:477mm W:200mm H:226mm
People who bought this also bought...
---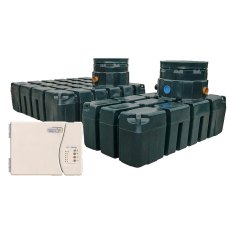 ---