Water Booster Pumps Explained

---
There are two reasons why water may need to be boosted: (1) to give a better flow and pressure at the draw-off point in a domestic situation, or (2) as a method of raising the water supply in high-rise buildings above the height that the mains will supply.
A booster pump set helps to get to optimum pressure within the current system, so you should get constant water pressure whether you are downstairs in the kitchen or up on the 3rd floor having a shower.
'Packaged' pumping sets or Booster Sets are installed consisting of dual pumps (unless single pump is selected, then this would only be one pump) to overcome the problem of failure of (or the need to renew) one of the pumps. The second pump also assists at times of high demand on the system, cutting in as necessary. To prevent pump seizure and stagnation of water, the pumps should be designed to work alternately. Two types of system will be found: those using pressure-sensing devices and those using float switches.
---
Types of Pumps explained
At Tanks Direct we offer a selection of Booster pumps, not only single, twin, triple, CAT5 or compact set pumps but also a selection of makes - FyVar SE, RS Vari, Lowara and Grundfos.
The following information will explain the different pumps and features they offer.
FlyVar SE Booster Pumps
This variable speed pressure booster set is designed to suit domestic and light commercial systems with hot and cold-water supplies. With air cooled 12L expansion vessels, the FlyVar is fantastic if any maintenance is required on the pumps, as the inverters can be removed, not affecting any other components on the pump.
WRAS approved submersible pumps and pressure vessels.
All FlyVar SE pumps are pressure tested, full capability and parameters checked, visually inspected prior to delivery. A certificate is issued upon successful test completion.
Features of the FlyVar SE
Plug and Play system
304 Stainless-steel WRAS approved pumps
Bluetooth Connection
Variable Speed Inverter
Dry Run protection
12 litre WRAS approved pressure vessels
Glycerine filled pressure gauge
Air-cooled inverters
Available in twin and triple pump options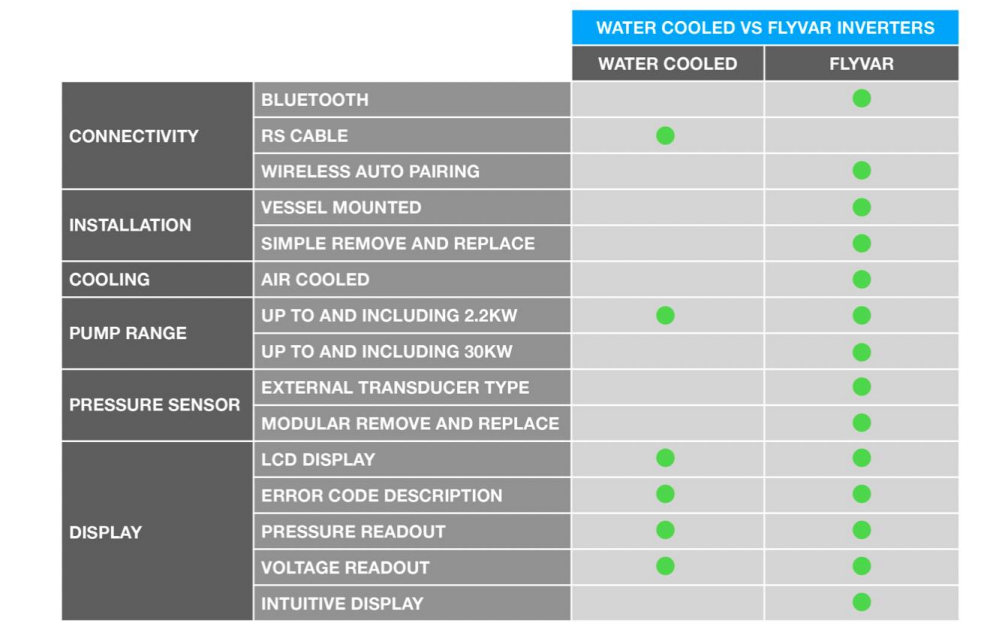 ---
---
RS Vari Booster pump
The RS Vari pressurisation units are an upgrade from the FlyVar SE and can be used for many applications including -
Building services
Water lifting and handling
Air conditioning
Heating
Irrigation
Washing systems
Available with the RS Variable speed inverters, which are designed with the needs of modern plumbing in mind and the constant pressure requirements which comes with them. Advantages of these inverters are - Constant pressure, quiet operation, no contact with any water, Dry run protection and gradual pressure increase facility, to prevent system shock.
Key Benefits of the RS Vari Pump
304 Stainless-steel WRAS approved Pumps
BMS volt free contacts
Variable Speed inverters
Dry run protection
8 litres WRAS approved pressure vessel
Glycerine filled pressure gauge
Tested and programmed prior to dispatch
Stainless-steel fittings
Available in single, twin and triple pump set options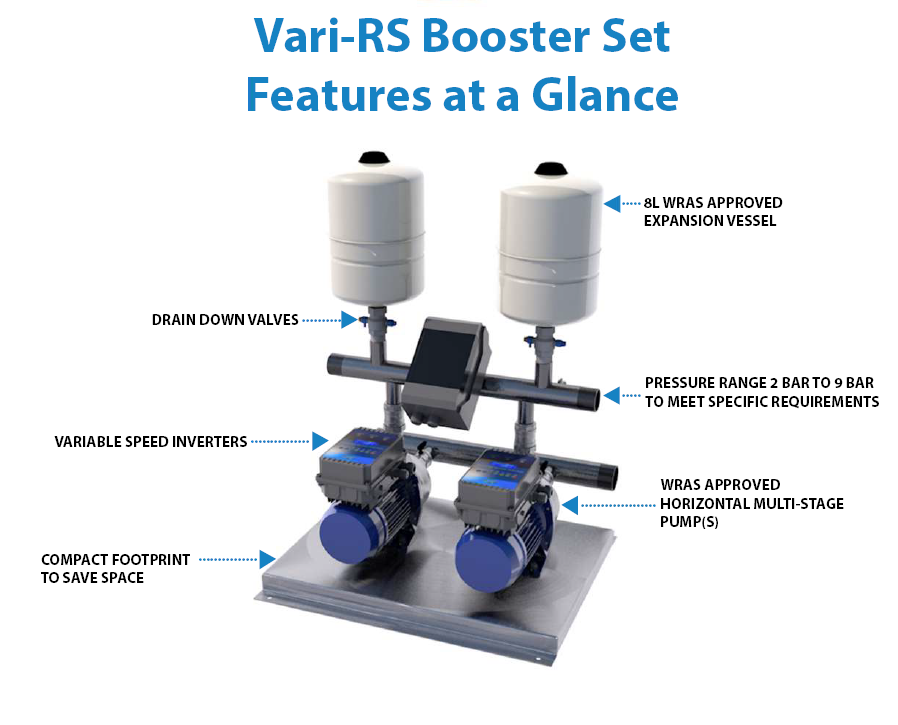 ---
---
Lowara Booster Pumps
Lowara has been manufacturing high quality, cost-effective pumping systems for well over 40 years. Lowara pumps can be used in a variety of pumping solutions for both water and chemical based liquids.
The E-Series booster pumps we supply here at Tanks Direct range from single, twin to triple pump configurations.
Key Features of the Lowara Pumps
304 Stainless steel WRAS approved pumps
BMS Volt Free Contacts
Variable speed inverter
Dry run protection
PWB 8 litres WRAS approved pressure vessel
Glycerine filled pressure gauge
Tested and programmed prior dispatch
Stainless-steel Fittings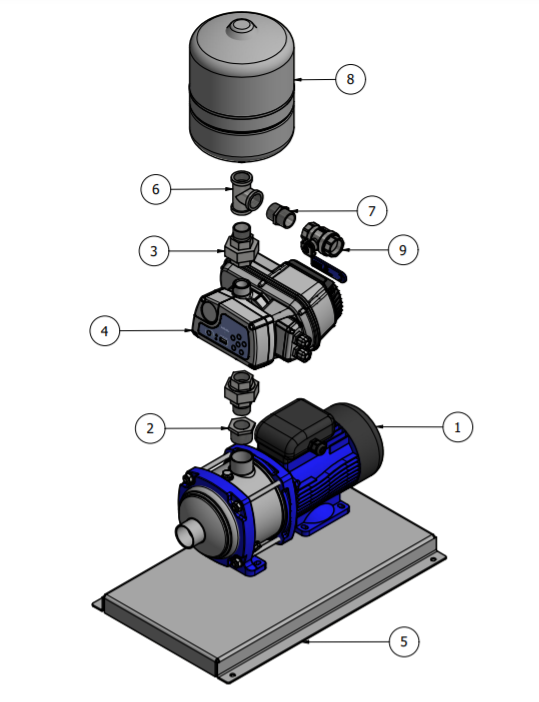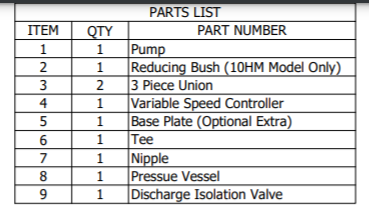 ---
---
Grundfos Booster Pumps
Grundfos is one of the world's leading manufacturers, their passion for sustainable and environmental issues has seen Grundfos pioneer energy labelling for pumps. As a result, many Grundfos Pumps are A rated and comply with the European EuP regulations.
There E Series pumps are typically used in the following Industrial and commercial applications -
Heating and air-conditioning systems
Pressure boosting systems
Industrial cooling systems
Process systems with fluctuating load Irrigation systems ·
The Grundfos booster Pumps are available at Tanks Direct in single, twin and triple configurations.
---
---
FAQ's - Booster pumps explained
Do I need a single or twin pump system?
This depends on a couple of factors, the demand of the building if you want it sharing across 2 pumps, but also the importance of the water supply, for example, manufacturing facilities who need wash down cannot afford the downtime of a single pump etc. With a twin pump system, you can share the duty across 2 pumps, which both pumps would run at 50% of total duty, or on duty standby, where each pump would be capable of 100% of total duty.
---
What is the difference between water flow and water pressure?
There are differences between water pressure and water flow. Water flow is the volume of water delivered and is measured in litres per minute. Water pressure is the force or speed the water is delivered. Both are affected by the size and condition of the pipe work the water is flowing through.
---
I'm not sure what I need, or if it can fit, can somebody come and measure it up?
This is a service we can carry out, however with the use of modern technically, we only require the standard set of information, and then just basic measurements of the space it is going into, widths of doors and room space etc, all of this we can now do with the use of online video calls and pictures.
---
Glossary of terms
Flow Rate - The volume of fluid that flows through a vessel in a given time. In regards to pumps, usually meaured in litres per second (l/ps) or litres per minute (l/pm)
Pressure - The amount of pressure delivered by the system, normally shown in Bar.
Operational Flow - A method of sharing duty across multiple pumps.
Horizontal or Vertical Pump - How the pump is mounted which can impact pressure and servce requirements.
Nominal and Actual Capacity - Total tank capacity versus usable volume.
Loading Units - Amouunt of units in a property that requires water delivery
Demand - Used to describe the amount of units that will place pressure demand on the system.
---
Read More From Tanks Direct
---
---