6,000 Litre Rainbox Combi System
6,000 Litre Rainbox Combi System
Product Ref: RBC6000



Volume: 6000ltr
Dimensions: L:3600mm
Diameter: 1500mm
Home Delivery
UK mainland delivery from FREE ex VAT
Product Description
6,000 Litre Rainbox Combi Rainwater Harvesting System

What is Rainwater Harvesting?
Rainwater is collected from your roof area; it is then passed through a filter system which removes any large pieces of debris, leaves, etc. and then into the underground storage tank via a calmed inlet which is designed to stop the disturbance of any sediment in the bottom of the tank. Excess rainwater will pass through a siphoned overflow fitted to the tank to be connected to the storm drain or soak away.

Why Harvest Rainwater?
Rising utility bills, reduction of running costs and environmental implications are just three reasons for investing in a rainwater harvesting system. Up to 80% of commercial main water can be replaced by rainwater harvesting
Rainwater harvesting is a key component to reach compliance within the code for sustainable homes to reduce overall water consumption.
Additionally, rainwater re-use scores highly with the Water Efficiency sector of the BREEAM accreditation scheme and can help gain planning permission by meeting site drainage requirements (ref. Building Regulations Part H) as part of a sustainable drainage (SUDS) scheme.
What's included in the system?
Underground Storage Tank 6000L
Internal Filter System max roof area 2000m2
2 x Pedestrian rated covers 1 x 600x600 1 x 750x750
Submersible water pump with built-in pressure switch and dry run protection
500L GRP Header Tank c/w AB air gap and 2 inlet valves
How does the Rainbox Combi Work?
Not only is the Rainbox Combi environmentally friendly, it has the added benefit of lowering utility costs for the end user by replacing up to 80% of commercially available mains supplied water with collected rain water.
The collected Rainwater is pumped or gravity fed to a low level break tank. In turn, the water is then gravity fed to an integral or external booster pump system for onward distribution to the serviced appliances.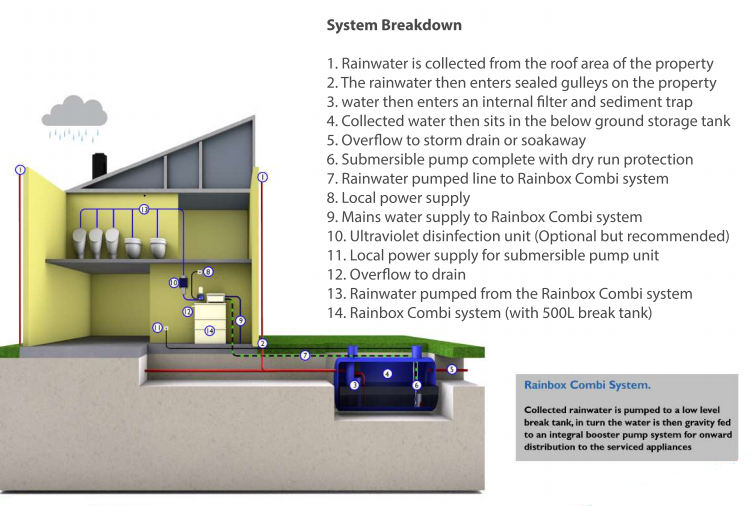 Features
Bluetooth Inverter
12L Expansion Vessel
AB CAT5 Air gap to stop cross contamination
Whisper Quite, WRAS approved submersible pump
500 mm Invert depth

Please note all RWH tanks have 2 access turrets 600mmx 500mmhigh
Delivery
All our Rainwater harvesting tanks are for delivery by customer offload. This entails the customer to acquire the right manpower and/or machinery to help unload the tank/s from the delivery vehicle.
If you require assistance with offloading, we may be able to offer a tail lift (lowers the tank to the ground) or HIAB (lorry with a mounted crane to winch the tank off the delivery vehicle). Please contact us if this is required for delivery.
Product Details
Product Code: DPT
Customer Offloading: Customer Offloading
Delivery: Free Delivery
Diameter: 1500mm
Potable: Non Potable
Tank Use: Below Ground
Delivery
Our shipping costs cover most of the UK - however, parts of England, Scottish Highlands and Islands including areas north of the Glasgow / Edinburgh border, Isle of Wight, Channel Islands, Isle of Man, Anglesey, Western Isles, Shetland Islands, Orkney Islands, Isles of Scilly, Northern Ireland and the Republic of Ireland may cost more.
Please call before ordering if the delivery postcode is listed below. There may be additional shipping costs. AB, BT, CA, CT, DD, DG, EH, FK, G, GY, IM, IV, JE, KA, KW, KY, LD, LL, ML, PA, PH, PO 30-41 (Isle of Wight), SA, SY, TD, TN, TR, ZE Southern Ireland
Our lead times should only be used as a guide and are subject to change.
Offloading
Unless a hi-ab delivery has been booked at additional cost, it is the customer's responsibility to offload with suitable equipment on the day of delivery and a failed delivery may result in additional charges.
We recommend installers and/or plant hire & materials to install such as excavators, aggregates etc are not booked until you are in receipt of the goods. Tanks Direct cannot be held responsible for costs incurred due to unforeseen delays, please see our terms for more details.
HIAB
HIAB delivery will be required if you need the tank offloaded from the delivery vehicle. The driver will unload the tank from the vehicle to ground level, however this service is not to place the tank in situ, this will need to be arranged separately.
If you have any questions regarding your delivery, please contact the Sales Team on 01643 703358.
Returns Information
Customers may return items within 14 calendar days (as per our Terms & Conditions) - refer to section 7. **
Please note - Certain items may not be returnable, for example those made to order or for sanitary reasons. Please check the product page for more information.
All Items must be returned unused, refunds cannot be issued for used or previously installed items.
Please be aware that returning a tank can be complicated and expensive, so please check that you are ordering the correct item (we suggest checking the dimensions very carefully).
If you wish to return goods, please complete the form on this page to provide further information.
Once your request is approved, a valid Returns Authorisation Number (RAN) will be issued to initiate the returns process along with information on how & where to return your order along with any costs involved.
Please DO NOT return any goods without this authorisation. Goods cannot be accepted without this.
Returns are not accepted at our Minehead Office, please wait until we contact you before returning any goods.
People who bought this also bought...