Waste Water Commissioning Explained
---
---
Sewage Treatment Plant - Domestic
---
Sewage Treatment Plant - Commercial
---
---
---
---
FAQ's
What is Commissioning?
Commissioning ensures your purchased or existing system is running the way it is designed to at all times, which in turn saves you money. Our skilled engineers, carry out tests and procedures to check the unit is running optimally.
Whats the difference between installation and commissioning?
To install an eligible installation means to build and/or put in place the relevant system.
To 'commission' a plant means to carry out all necessary tests and procedures required by industry standards to show that the plant is able to deliver for the purpose for which it was installed.
Are there different types of commissioning?
Depending on your unit, we can offer commissioning to suit most areas.
The types of commissioning we can offer are -
Sewage Treatment Plants - Domestic and Commercial
Rainwater Harvesting
Pump Chambers
Fuel/ Separators - Commercial
We also offer GRP Water tank commissioning, for more information on this type of commissioning, please click here
Smart and Standard Commissioning - whats the difference?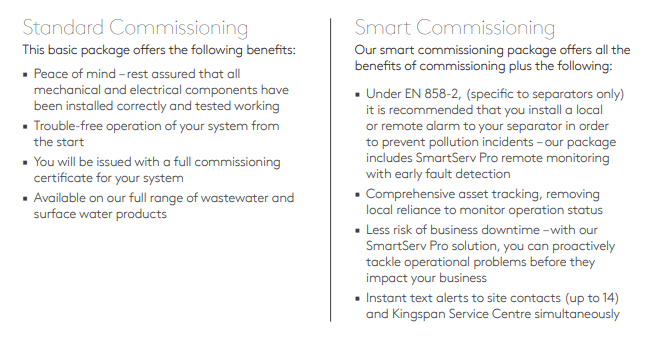 ---