1190 Litre Foul Water - Mini Single Pump Station
1190 Litre Foul Water - Mini Single Pump Station
Product Ref: MINI1900S/GR/6VX





Volume: 1190ltr
Weight: 80.000kg
Dimensions: H:2100mm
Diameter: 850mm
Estimated Lead time:1 - 2 working days, 10m Head current lead time 10-14 Working days
Home Delivery
UK mainland delivery from £65.00 ex VAT
Product Description
1190 Litre Foul Water - Packaged Single Pump Station - Mini 850 Series
The Mini 850 Range of package pump stations are designed to collect foul water from an entire property or other buildings which houses multiple people, such as commercial offices and other light commercial applications.
The Mini 850 Range of pump stations have been designed to ensure an easy and trouble free installation and is manufactured in high-grade HDPE. The Mini Range of pump stations are delivered to site as a complete package, including all internal pipework and a sewage pump.
This system also comes with guide rail and pedestal kit for easy pump access. The station is designed to pump through a 63 mm pump main, as the chamber's outlet terminates in a 2" male BSP thread.
The Mini 850 Range of package pump stations allow for one or two 110 mm inlet (to be drilled on-site) to enable a quick and easy installation.
The stations come in a single and twin pump arrangement.
Delivery
All our Sewage Pumping Stations are for delivery by customer offload. This entails the customer to acquire the right manpower and/or machinery to help unload the tank/s from the delivery vehicle.
If you require assistance with offloading, we may be able to offer a tail lift (lowers the tank to the ground) or HIAB (lorry with a mounted crane to winch the tank off the delivery vehicle). Please contact us if this is required for delivery.
Product Details
Product Code: DPT
Colour: Black
Delivery: Fast Delivery
Diameter: 850mm
Material: HDPE (High density polyethylene)
Shape: Round
Stock tank: Stock tank
Tank Use: Below Ground
Twin or Single: Single
Pump Specifications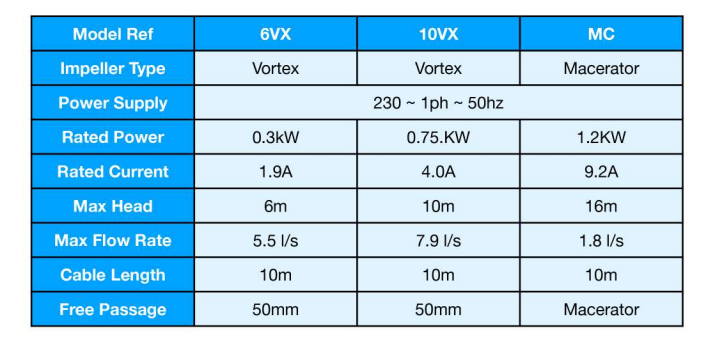 Commissioning
Pump Station Commissioning
Full system inspection
Levels inspection
Manway check for obstruction
Mount control panel (if not in place)
Check correct load to panel
Check correct cable size
Check correct power supply
Set the overloads
Lower pumps via guiderail onto stools using an A-frame if required
Pull pump cables through ducting
Pull float cables through ducting
Set floats to correct operating position
Wire cables into control panel
Fill system with water
Full test of pump station
Sign-off and certification
Warranty and documentation provided
Delivery
Our shipping costs cover most of the UK - however, parts of England, Scottish Highlands and Islands including areas north of the Glasgow / Edinburgh border, Isle of Wight, Channel Islands, Isle of Man, Anglesey, Western Isles, Shetland Islands, Orkney Islands, Isles of Scilly, Northern Ireland and the Republic of Ireland may cost more.
Please call before ordering if the delivery postcode is listed below. There may be additional shipping costs. AB, BT, CA, CT, DD, DG, EH, FK, G, GY, IM, IV, JE, KA, KW, KY, LD, LL, ML, PA, PH, PO 30-41 (Isle of Wight), SA, SY, TD, TN, TR, ZE Southern Ireland
Our lead times should only be used as a guide and are subject to change.
Offloading
Unless a hi-ab delivery has been booked at additional cost, it is the customer's responsibility to offload with suitable equipment on the day of delivery and a failed delivery may result in additional charges.
We recommend installers and/or plant hire & materials to install such as excavators, aggregates etc are not booked until you are in receipt of the goods. Tanks Direct cannot be held responsible for costs incurred due to unforeseen delays, please see our terms for more details.
HIAB
HIAB delivery will be required if you need the tank offloaded from the delivery vehicle. The driver will unload the tank from the vehicle to ground level, however this service is not to place the tank in situ, this will need to be arranged separately.
If you have any questions regarding your delivery, please contact the Sales Team on 01643 703358.
Returns Information
Customers may return items within 14 calendar days (as per our Terms & Conditions) - refer to section 7. **
Please note - Certain items may not be returnable, for example those made to order or for sanitary reasons. Please check the product page for more information.
All Items must be returned unused, refunds cannot be issued for used or previously installed items.
Please be aware that returning a tank can be complicated and expensive, so please check that you are ordering the correct item (we suggest checking the dimensions very carefully).
If you wish to return goods, please complete the form on this page to provide further information.
Once your request is approved, a valid Returns Authorisation Number (RAN) will be issued to initiate the returns process along with information on how & where to return your order along with any costs involved.
Please DO NOT return any goods without this authorisation. Goods cannot be accepted without this.
Returns are not accepted at our Minehead Office, please wait until we contact you before returning any goods.
People who bought this also bought...