Clearwater 200L Compact Sewage Pumping Station
Clearwater 200L Compact Sewage Pumping Station

Product Ref: 0007915






Volume: 200ltr
Weight: 50.000kg
Dimensions: H:700mm
Diameter: 610mm
Estimated Lead time 3-5 working days
Home Delivery
UK mainland delivery from £45.00 ex VAT
Product Description
Clearwater 200L Compact Sewage Pumping Station - CWP1
Clearwater pumping systems are designed for smaller scale applications that are built below the level of the mains sewage system. Clearwater pump stations are available in various sizes and can be used for effluent, sewage or rainwater (please check suitability before ordering), depending on the distance from the mains and height required to pump,
Applications
Outbuildings
Extensions
Cellars
Pool Houses
External Toilets
Product Benefits
Robust, durable and corrosion free, stainless steel submersible pumps
Non-return valves as standard.
Complete pre-fabricated solution ready for installation
Suitable to pump sewage in accordance with BS 756-2
Fully automatic
Low Cost Commissioning
Service and maintenance plans available to prolong the life of the pump systems.
Clearwater 200L Pump Station Specifications

| | | | | | |
| --- | --- | --- | --- | --- | --- |
| Chamber Size (mm) | Capacity (L) | Tank Material | Control Panel | Alarm | Pump Type |
| 610 x 700 | 200 | GRP | N/A | Optional | Single |
Low Cost Commissioning
Benefits:
Reassurance that your system's mechanical and electrical components are in good working order
A warranty period that only starts when your water system is commissioned, not when it leaves the factory (terms and conditions apply)
Trouble-free operation of your system from the start
Standard Commissioning: What's Included
This requires that the unit has been installed by the main contractor in line with the provided installation guidelines.
This includes the following, where relevant to the product selected:
Unit is installed flat and level with safe working area around the perimeter
All incoming and outgoing pipework has been connected
The control panel has been mounted
Permanent electrical supply has been fitted to the panel (extension leads or generator supplies will not be acceptable)
The following will then be carried out by an Authorised Service Engineer:
Check the system is installed to manufacturer's instruction
Fit floats in tank and set the levels
Pull float and pump cables through the ducts using drawstring provided
Connect pump and float cables to the control panel using appropriate glands (the panel must be within 2 m of the chamber or select "enhanced commissioning")
Check float cable operation and terminate (stop, start, standby, alarm)
Check pump rotation
Run the pumps via the float switches to ensure correct operation and discharge
Test high level alarm and beacon (if applicable)
Leave on Auto for future use
Please note, Kingspan Commissioning covers UK mainland and certain postcode areas only. Please speak to our Team for expert advice on Comissioning.
Service and maintenance
Your pump station should be serviced bi-annually to prevent blockages or obstructions in the inlet or outlet pipes from occurring. Any service and maintenance works need to be carried out by a properly trained professional, with appropriate experience, especially with mechanical and electrical parts. For more information on service and maintenance plans, please give our team a call on 01643 703358.
Key Factors to size your Pump Stations
To size your pump stations, the key factors to take into consideration are below
Application: domestic, residential or commercial.
Material application: sewage, effluent or surface water.
Inlet depth (below ground level).
Pumping distance and lift.
Electrical supply.
If you require assistance with sizing your Pump station, please give our sales team a ring on 01643 703358.
Delivery
Our shipping costs cover most of the UK - however, parts of England, Scottish Highlands and Islands including areas north of the Glasgow / Edinburgh border, Isle of Wight, Channel Islands, Isle of Man, Anglesey, Western Isles, Shetland Islands, Orkney Islands, Isles of Scilly, Northern Ireland and the Republic of Ireland may cost more.
Please call before ordering if the delivery postcode is listed below. There may be additional shipping costs. AB, BT, CA, CT, DD, DG, EH, FK,G, GY, IM, IV, JE, KA, KW, KY, LD, LL, ML, PA, PH, PO 30-41 (Isle of Wight), SA, SY, TD, TN, TR, ZE Southern Ireland
Our lead times should only be used as a guide and are subject to change.
Offloading
Unless a hi-ab delivery has been booked at additional cost, it is the customer's responsibility to offload with suitable equipment on the day of delivery and a failed delivery may result in additional charges.
We recommend installers and/or plant hire & materials for install such as excavators, aggregates etc are not booked until you are in receipt of the goods. Tanks Direct cannot be held responsible for costs incurred due to unforeseen delays, please see our terms for more details.
If you have any questions regarding your delivery please contact the Sales Team on 01643 703358.
Returns Information
Customers may return items within 14 calendar days (as per our Terms & Conditions) - refer to 4.6 & 4.7. **
Please be aware that returning a tank can be complicated and expensive so please check that you are ordering the correct item (we suggest checking the dimensions very carefully).
If you wish to return goods, please complete the form on this page to provide further information.
Once your request is approved, a valid Returns Authorisation Number (RAN) will be issued to initiate the returns process along with information on how & where to return your order along with any costs involved.
Please DO NOT return any goods without this authorisation. Goods cannot be accepted without this.
Returns are not accepted at our Minehead Office, please wait until we contact you before returning any goods.
Please click here to request a return
Product Specification
Product Code: CW
Colour: Brown
Customer Offloading: Customer Offloading
Delivery: Fast Delivery
Diameter: 610mm
Material: GRP
Shape: Round
Tank Use: Below Ground, Sewage
Twin or Single: Single
People who bought this also bought...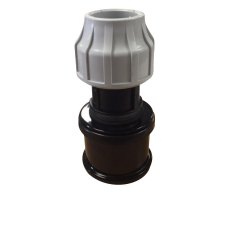 ---