Stuart Turner Mainsboost VariQ Varibale Speed Booster Pump 240V
Stuart Turner Mainsboost VariQ Varibale Speed Booster Pump 240V
Product Ref: 47322
Home Delivery
UK mainland delivery from FREE ex VAT
Downloadable documents

Mainsboost VariQ Data Sheet

Mainsboost VariQ Installation Guide
Product Description
Mainsboost VariQ - 47322
The VariQ not only offers variable speed, it is also compact, energy efficient, easy to install and quiet when in use.
Designed to boost water pressure from a cold water storage tank, roof tank or ground tank in domestic or light commercial applications, the Mainsboost VariQ is ideal for many properties.
When multiple outlets are being used, i.e. showers and applications which are running at the same time, the VariQ's speed will adjust automatically to meet the demands without any noticeable drop in water pressure.
Features:
Suitable for properties with up to 3 floors and up to 10 outlets in operation simultaneously.
Variable Speed
Boosts Pressure up to 5.5 Bar
Boosts flow rate up to 97 L/Min
Intelligent control
Quiet operation
Illuminated touch screen and control panel
Easy to Install and Commission
Self Priming motors
Dry Run Protect
Continuously rated
2 Year Warranty
VariQ Specifications

| | |
| --- | --- |
| Manufacturer | Stuart Turner |
| Manufacturer's Warranty | 2 years* |
| Pump Type | Centrifugal Multistage |
| Pump Control | Variable Speed |
| Power cable length | 1.5 Meters |
| Dimensions (l x w x h) | 391 x 194 x 292 mm |
| Weight (including fittings) | 9 kg |
| Typical Noise | 66 dB (A) |
| Max. Head - Closed Valve (metres) | 55 m |
| Max. Flow (Litres per minute) | 97 L/min |
| Maxi Working Pressure | 650 kPa (6.5 Bar) |
| Max. ambient Air Temp. (continuous) | 40 °C |
| Min. Water Temperature | 4 °C |
| Max. Water Temperature | 23 °C |
| Power Supply | 230 V a.c. / 1 / 50 Hz |
| Motor Type | Permanent Magnet Variable Freq. |
| Duty Rating | Continuous (S1) |
Easy to Install
The illuminated, intuitive touch screen control panel, makes installing the pump easy. With the display panel showing all the features you require, pressure valves, pressure mode, pump running/ standby mode, adjustment controls, and if anything should ever go wrong, fault codes to help identify the problem.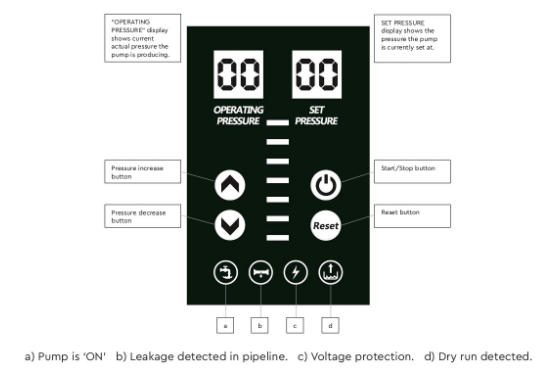 Application Table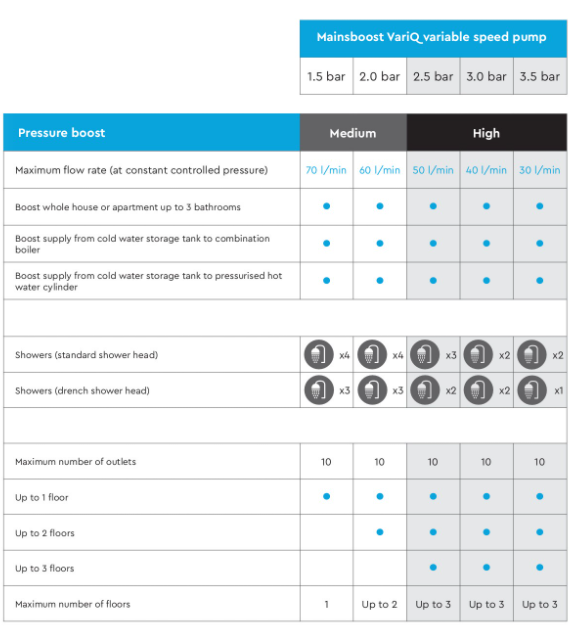 Delivery
All our Booster pumps are for delivery by customer offload. This entails the customer to acquire the right manpower and/or machinery to help unload the tank/s from the delivery vehicle.
If you require any specific requirements regarding delivery, please call us before order is placed, where we will try and accommodate this facility for you.
Delivery
Our shipping costs cover most of the UK - however, parts of England, Scottish Highlands and Islands including areas north of the Glasgow / Edinburgh border, Isle of Wight, Channel Islands, Isle of Man, Anglesey, Western Isles, Shetland Islands, Orkney Islands, Isles of Scilly, Northern Ireland and the Republic of Ireland may cost more.
Please call before ordering if the delivery postcode is listed below. There may be additional shipping costs. AB, BT, CA, CT, DD, DG, EH, FK,G, GY, IM, IV, JE, KA, KW, KY, LD, LL, ML, PA, PH, PO 30-41 (Isle of Wight), SA, SY, TD, TN, TR, ZE Southern Ireland
Our lead times should only be used as a guide and are subject to change.
Offloading
Unless a hi-ab delivery has been booked at additional cost, it is the customer's responsibility to offload with suitable equipment on the day of delivery and a failed delivery may result in additional charges.
We recommend installers and/or plant hire & materials for install such as excavators, aggregates etc are not booked until you are in receipt of the goods. Tanks Direct cannot be held responsible for costs incurred due to unforeseen delays, please see our terms for more details.
If you have any questions regarding your delivery please contact the Sales Team on 01643 703358.
Returns Information
Customers may return items within 14 calendar days (as per our Terms & Conditions) - refer to 4.6 & 4.7. **
Please be aware that returning a tank can be complicated and expensive so please check that you are ordering the correct item (we suggest checking the dimensions very carefully).
If you wish to return goods, please complete the form on this page to provide further information.
Once your request is approved, a valid Returns Authorisation Number (RAN) will be issued to initiate the returns process along with information on how & where to return your order along with any costs involved.
Please DO NOT return any goods without this authorisation. Goods cannot be accepted without this.
Returns are not accepted at our Minehead Office, please wait until we contact you before returning any goods.
Please click here to request a return
Product Specification
Product Code: STUT
Brand: Stuart Turner
Twin or Single: Single
People who bought this also bought...
---
---
---
---
---