---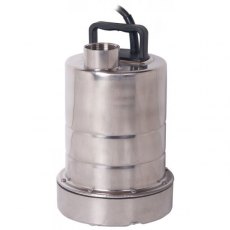 Lower 60 Submersible Puddle Pump 110V
Lower 60 Submersible Puddle Pump The Lower 60 Submersible Puddle Pump is a stainless steel electric 110V pump for clean water, waste water or slightly dirty water. It has a max flow rate of 90lpm. Can drain down to 2mm. Specification: 10m max head 175 Lpm max flow 110 Volt pump, 0.45kW motor Manual stop/start Drains to 2mm AISI 304 body Class F insulation, IP68 2mm free passage 5m...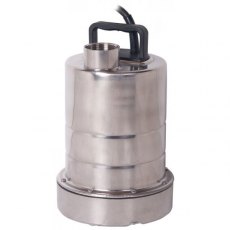 Lower 60 Submersible Puddle Pump 230V
Lower 60 Submersible Puddle Pump The Lower 60 Submersible Puddle Pump is a stainless steel electric 230V pump for clean water, waste water or slightly dirty water. It has a max flow rate of 90lpm. Can drain down to 2mm. Specification: 10m max head 175 Lpm max flow 230 Volt 0.45 kW 2.2 Amp motor Manual stop/start Drains to 2mm AISI 304 body Class F insulation, IP68 2mm free...
Puddle Pumps FAQs
On my Water Pump it mentions about head height. What is this and how do I work out what I require?
Head is the height in which the pump is lifting the waste, measured from cover level of the pump station, to the cover level of the discharge manhole. With this measurement we can ensure we supply a pump powerful enough to lift the waste up that high. We will need to know this and also the distance that it is pumping to make sure the pump quoted is suitable.
Automatic Pump - what does this mean?
An automatic pump is a pump that will automatically turn itself on and off as the liquid level rises and falls. These pumps are usually longer lasting as they do not burn out but switch off automatically if there is no liquid to pump therefore, they do not run dry.
Why choose a macerator pump over a vortex pump?
If you have an application where the risk of blockages that could enter the drain run is higher than usual, for example if the property is rented, tenants could unwillingly block the pump, this is also a problem if it is an apartment block as you wouldn't be able to source who was responsible for blocking It, but everyone would need to pay their share to fix it.
Also, macerator pumps, because of how they cut through the waste, they can pump a much higher head (vertical distance), so when compared to vortex pumps, if you have anything over 10m, you will need to be selecting macerator pumps. Always check the pump flow curves for your application or you can call to speak to one of our technical team if you want to be sure the pumps will do the task at hand.
When to choose a 65mm or 80mm vortex pump over a 50mm vortex pump
If you are concerned about the risk of blockages but also need a flow rate which macerator pumps can't provide, or even if it's purely just a faster flow rate you need, a larger 65mm or 80mm pump will be able to achieve this, calculating a specific flow rate to your application is difficult and would be best speaking to a member of our technical team to help specify the right pumps for your station.
Do waste pumps need servicing and if so, how often should this be done?
Waste pumps and your wastewater system in general need regular servicing to keep it in working order. A general desludging of your system and a check of the components such as the sewage pump will keep the sewage treatment system in good working order for longer.
Generally, a good rule of thumb for servicing your sewage pump would be every 1 to 2 years or every time you empty your septic tank. It is a good idea to get it checked regularly to avoid a costly replacement further down the line.
Why variable speed pumps?
When you consider all the pumping that occurs globally, whether in large industrial plants or in domestic heating systems, this accounts for almost 20% of the world's energy consumption. Because of this there is a huge opportunity in the pumping industry to make a significant contribution to using our energy resources efficiently. In pumping applications where the duty required is not constant, it is highly likely that installing a variable speed pump will result in significant energy savings - likely to be between 30% and 50% in many applications.
Other benefits of variable speed pumps include:
1. Improved reliability
Because variable speed pumps run at speeds below their maximum, there is a reduction in wear, particularly in mechanical seals.
2. Improved control
Variable speed pump controller can monitor small variations in pressure and make adjustments accordingly. This also means there is less liklihood of sudden changes in flow or pressure.
More Information
When should variable speed pumps be used?
Variable speed pumps should be used in any installation where the pump duty is not constant. If a pump duty is constant a fixed speed pump may be the most cost-effective option. However, even in fixed duty applications there may be an advantage to running a pump below its maximum speed. A motor running at 80% of its maximum speed uses 48% less energy.
More Information
Are there any disadvantages to using variable speed pumps?
1. Vibrations
Although running pumps below their maximum speed will tend to reduce overall system noise, altering the speed of a pump may result in structural resonances that would not occur at the pump's maximum speed. This may cause vibration which can be harmful to equipment and cause an increase in noise at certain frequencies. There are a number of products that help to alleviate these potential issues.
2. Higher initial cost
Because of the added complexity of an inverter drive, variable speed pumps and systems which include variable speed pumps will cost more initially than a fixed speed equivalent. However, this additional cost is invariably outweighed by the long-term energy cost saving.
More Information
Horizontal vs Vertical pumps
This depends on your existing pump and the type of installation you have or are planning on. The vertical Hippo 50 has a vertical port discharges via a 2" female port and the horizontal Hippo 50 discharges via a horizontal 2" female port but is also DN50 flanged
More Information
What is a Vortex Impeller Sewage Pump?
Vortex impeller sewage pumps use centrifugal action. In this sewage pump. the impeller rotates and causes a tornado-like action that pulls the waste into the pump and then sends it into the discharge pipe with little or no contact with the impeller which helps the pump to withstand any stringy material it may encounter. This means there is a much lower chance of clogging the impeller.
To see our range of sewage pumps click - https://www.tanks-direct.co.uk/waste-water-tanks/waste-water-pumps/sewage-pumps/c1039
What is a submersible pump?
A submersible pump means that the pump needs to be submerged or covered in liquid specifically the type specified on the pump such as water, wastewater, sewage etc.
More Information
Do I need a macerator?
Macerator pumps are used only for heads higher than 10m and with a low flow rate when you have a discharge rate restriction imposed by the water authority who own the sewer you discharging into.
Is there an option to have an enclosure for my pump set?
If a booster or compact set is being housed externally, you will need an enclosure to protect the inverter from the elements so anything electronic needs to be protected by an enclosure of some sort, never leave the booster set to face the elements
More Information
How much space do I require around my pump?
You require at least 500mm above the break tank so you can service it and inspect it when required. Also, a booster just needs to be installed in a maintainable space so that the inverters can be reviewed if needed via clear walkways and facing into the room, not tucked away down the side of a plant room.