Mikrofill 24 Pressurisation Set with 24 Litre vessel and Service Valve
Mikrofill 24 Pressurisation Set with 24 Litre vessel and Service Valve

Product Ref: 100025


Volume: 24ltr
Estimated Lead time: 7 - 10 Working Days
Home Delivery
UK mainland delivery from FREE ex VAT
Technical Information
Mikrofill Technical Information

General
Approvals / Conformity Certification
WRAS Approved Product (1212069) UKCA, CE
Warranty
2 Years
Connections
Cold Water Inlet
15 mm Compression
System Outlet
15 mm Compression
Drain (Via Tundish)
3/4'' BSP
Maximum Inlet Pressure
5 Bar
Maximum Cold Fill Pressure
4.7 Bar
Nominal Flow Rate
14 l/ min
Dimensions
Height x Width x Depth (mm)
270 x 250 x 112
Dry Weight (kg)
5
Mikropro Vessel Technical Information

General
Capacity (L)
25
Diameter (mm)
308
Height (mm)
481
Inlet
3/4''
Weight (kg)
4.4
Performance
Operating Pressure - Max
3 Bar
Operating Temperature - Max
70 °C
Product Description
Mikrofill 24 Includes Mikrofill 3 PU Unit- 1x 24 Litre 3 Bar Vessels-Service Valve & Factory Pre-Commissioning
Mikrofill is a system that efficiently fills a water system to an optimal pressure level to achieve the best flow. The Mikrofill is designed to be connected directly to a building's incoming mains/boosted water supply and fill a heating or chilled water system without the use of a pump.

Key Features
97% more Energy efficient than some pump type units
Integral fluid risk category 4 backflow prevention - No RPZ valve required
Fills any LPHW/CHW system from empty - Connects directly to the mains/boosted water supply
Wall mounted unit only 270 mm high x 250 mm wide - Compact enough to fit in the smallest of plant rooms
Consumes 10 watts on standby and 30 watts fully operational per hour - 97% more energy efficient than some pump type units
Fill volume indicator - Aids water treatment calculation
Large colour screen display - Clear and concise instruction
Pre - commissioned packages available - No on-site commissioning required when sold as a package
WRAS Approved Product
Benefits
No RPZ valve required
Automatically monitors system and controls system pressure
Connects directly to the mains water supply
Provides early warning of system leakage and aids water treatment calculation
Flexible Installation
Clear status indication and intuitive set up
No on-site commissioning required
Delivery
All our Pressurisation Units are for delivery by customer offload. This entails the customer to acquire the right manpower and/or machinery to help unload the tank/s from the delivery vehicle.
If you require any specific requirements regarding delivery, please call us before order is placed, where we will try and accommodate this facility for you.
Product Details
Product Code: STP
Brand: Stuart Turner
Delivery: Free Delivery
WRAS: WRAS Approved Parts
Advantages over a RPZ Valve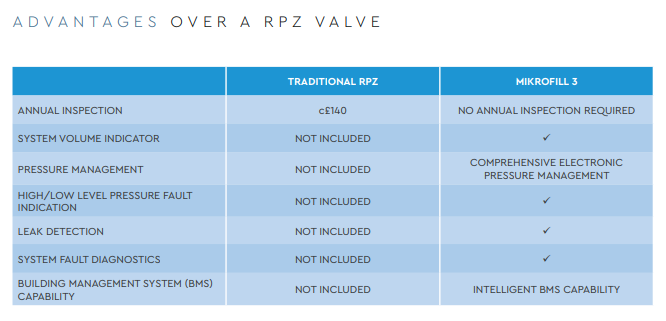 Delivery
Our shipping costs cover most of the UK - however, parts of England, Scottish Highlands and Islands including areas north of the Glasgow / Edinburgh border, Isle of Wight, Channel Islands, Isle of Man, Anglesey, Western Isles, Shetland Islands, Orkney Islands, Isles of Scilly, Northern Ireland and the Republic of Ireland may cost more.
Please call before ordering if the delivery postcode is listed below. There may be additional shipping costs. AB, BT, CA, CT, DD, DG, EH, FK, G, GY, IM, IV, JE, KA, KW, KY, LD, LL, ML, PA, PH, PO 30-41 (Isle of Wight), SA, SY, TD, TN, TR, ZE Southern Ireland
Our lead times should only be used as a guide and are subject to change.
Offloading
Unless a hi-ab delivery has been booked at additional cost, it is the customer's responsibility to offload with suitable equipment on the day of delivery and a failed delivery may result in additional charges.
We recommend installers and/or plant hire & materials to install such as excavators, aggregates etc are not booked until you are in receipt of the goods. Tanks Direct cannot be held responsible for costs incurred due to unforeseen delays, please see our terms for more details.
HIAB
HIAB delivery will be required if you need the tank offloaded from the delivery vehicle. The driver will unload the tank from the vehicle to ground level, however this service is not to place the tank in situ, this will need to be arranged separately.
If you have any questions regarding your delivery, please contact the Sales Team on 01643 703358.
Returns Information
Customers may return items within 14 calendar days (as per our Terms & Conditions) - refer to section 7. **
Please note - Certain items may not be returnable, for example those made to order or for sanitary reasons. Please check the product page for more information.
All Items must be returned unused, refunds cannot be issued for used or previously installed items.
Please be aware that returning a tank can be complicated and expensive, so please check that you are ordering the correct item (we suggest checking the dimensions very carefully).
If you wish to return goods, please complete the form on this page to provide further information.
Once your request is approved, a valid Returns Authorisation Number (RAN) will be issued to initiate the returns process along with information on how & where to return your order along with any costs involved.
Please DO NOT return any goods without this authorisation. Goods cannot be accepted without this.
Returns are not accepted at our Minehead Office, please wait until we contact you before returning any goods.
People who bought this also bought...