Klargester Full Retention Separator - NSFP006 - 335M² drainage area
Klargester Full Retention Separator - NSFP006 - 335M² drainage area

Product Ref: NSFP006




Weight: 180.000kg
Dimensions: L:1700mm
Diameter: 1350mm
Estimated Lead time: 3-5 Working days
Home Delivery
UK mainland delivery from FREE ex VAT
Downloadable documents

Klargester AquaOil Bypass and Full Retention Datasheet
Product Description
Klargester NSFP006 Full Retention Separator for 335m2 drainage area
The Klargester range of full retention separators are suitable for use in car parks, roadways, fuel distribution depots, vehicle workshops and forecourts.
Full retention separators treat the full flow that can be delivered by the drainage system. This is normally equivalent to the flow generated by the rainfall intensity of 65mm/hr. On larger sites, some short term flooding may be acceptable means of limiting the flow rate and hence the size of full retention systems.
Kingspan Klaregsters range of full retention separators were the first UK manufacturer to have the required 3 -30 l/sec certified to EN 858-1 in the UK. The NSF number denotes the flow at which the separator operates.

Full Retention Separator Features
Designed for easy installation, saving time and money
Certified to EN858 - 1 and PPG3 for complete peace of mind
Oil alarm probe tube available (required by EN858-1 and PPG3)
Fitted inlet/ outlet connections
Vent points within necks
Maintenance from ground level
PE and GRP model construction - high strength and durability
CE - Marked
Applications
Klargesters full retention separators are used in high risk spillage areas such as:
Fuel Distribution depots
Vehicle workshops
Scrap Yards
NSFP006 Specifications
Model Reference: NSFP006
Material: Polyethylene Chamber Construction
Flow (l/s): 6
Drainage Area (m2) PPG-3 (0.018): 335
Storage Capacity (L) Silt: 600
Storage Capacity (L) Oil: 60
Length (mm): 1700
Diameter (mm): 1350
Manhole Cover Dimensions (mm): 600
Base Inlet Invert (mm): 1410
Base to Outlet invert (mm): 1335
Min Inlet Invert (mm): 550
Standard Pipework Diameter (mm): 160
Available with Smart Commissioning
Standard commissioning as scope of works, inc supplied and fitted (at point of commissioning) Kingspan Smartserv Pro GSM telemetry alarm for complete peace of mind.
Smartserv alerts both Kingspan and designated contacts. Includes 3 years Kingspan monitoring free of charge.*
*Kingspan monitoring is for alert only.
Service/maintenance packages are available at separate cost on request.
How to Size a Full Retention Separator?
To specify a nominal size full retention separator, the following information is required:
The calculated flow rate for the drainage area served. our designs are based on the assumption that any interconnecting pipework fitted elsewhere on site does not impede flow into or out of the separator and that the influent is not pumped.
The required discharge standard. This will decide which class is required.
The drain invert inlet depth
Pipework type, size and orientation
Delivery
Our shipping costs cover most of the UK - however, parts of England, Scottish Highlands and Islands including areas north of the Glasgow / Edinburgh border, Isle of Wight, Channel Islands, Isle of Man, Anglesey, Western Isles, Shetland Islands, Orkney Islands, Isles of Scilly, Northern Ireland and the Republic of Ireland may cost more.
Please call before ordering if the delivery postcode is listed below. There may be additional shipping costs. AB, BT, CA, CT, DD, DG, EH, FK,G, GY, IM, IV, JE, KA, KW, KY, LD, LL, ML, PA, PH, PO 30-41 (Isle of Wight), SA, SY, TD, TN, TR, ZE Southern Ireland
Our lead times should only be used as a guide and are subject to change.
Offloading
Unless a hi-ab delivery has been booked at additional cost, it is the customer's responsibility to offload with suitable equipment on the day of delivery and a failed delivery may result in additional charges.
We recommend installers and/or plant hire & materials for install such as excavators, aggregates etc are not booked until you are in receipt of the goods. Tanks Direct cannot be held responsible for costs incurred due to unforeseen delays, please see our terms for more details.
If you have any questions regarding your delivery please contact the Sales Team on 01643 703358.
Returns Information
Customers may return items within 14 calendar days (as per our Terms & Conditions) - refer to section 7. **
Please be aware that returning a tank can be complicated and expensive so please check that you are ordering the correct item (we suggest checking the dimensions very carefully).
If you wish to return goods, please complete the form on this page to provide further information.
Once your request is approved, a valid Returns Authorisation Number (RAN) will be issued to initiate the returns process along with information on how & where to return your order along with any costs involved.
Please DO NOT return any goods without this authorisation. Goods cannot be accepted without this.
Returns are not accepted at our Minehead Office, please wait until we contact you before returning any goods.
Please click here to request a return
Product Specification
Product Code: KLA
Customer Offloading: Customer Offloading
Delivery: Free Delivery
Diameter: 1350mm
HIAB Available: HIAB Available
Material: Polyethylene
Tank Use: Below Ground
People who bought this also bought...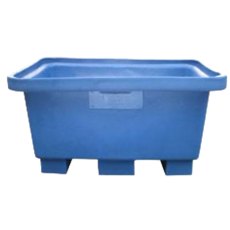 ---